Last year Muslim jihadists murdered more people in France, than were killed by terrorism in the country during the entire 20th century.
In response, the Prime Minister of France, Manuel Valls, has announced a range of innovative legal measures, introduced in response to the terrorist outrages which struck France in 2015.
On January 7, of that year, Saïd and Chérif Kouachi stormed the Paris offices of the satirical magazine Charlie Hebdo, massacring twelve and injuring eleven others.
In the days that followed, a comrade of the earlier jihadists committed a string of murders, which culminated in a siege at the kosher supermarket. Amedy Coulibaly killed five and injured eleven more.
On February 3, 2015, three military personnel guarding a Jewish community center in Nice were stabbed, by Moussa Coulibaly.
On June 26, the severed head of Hervé Cornara was placed on display, at the gas factory near Lyon where he worked, alongside twin ISIS flags, by Yassine Salhi.
On August 21, an attempted mass shooting on the Thalys high-speed train between Amsterdam and Paris, by Moroccan-born Ayoub El Khazzani, was foiled by American tourists, leading to the wounding of four.
In two days, starting on November 13, multiple jihadist attacks once again struck the French capital. 130 were killed and 352 injured, by perpetrators operating in three teams of three, which included suicide bombers.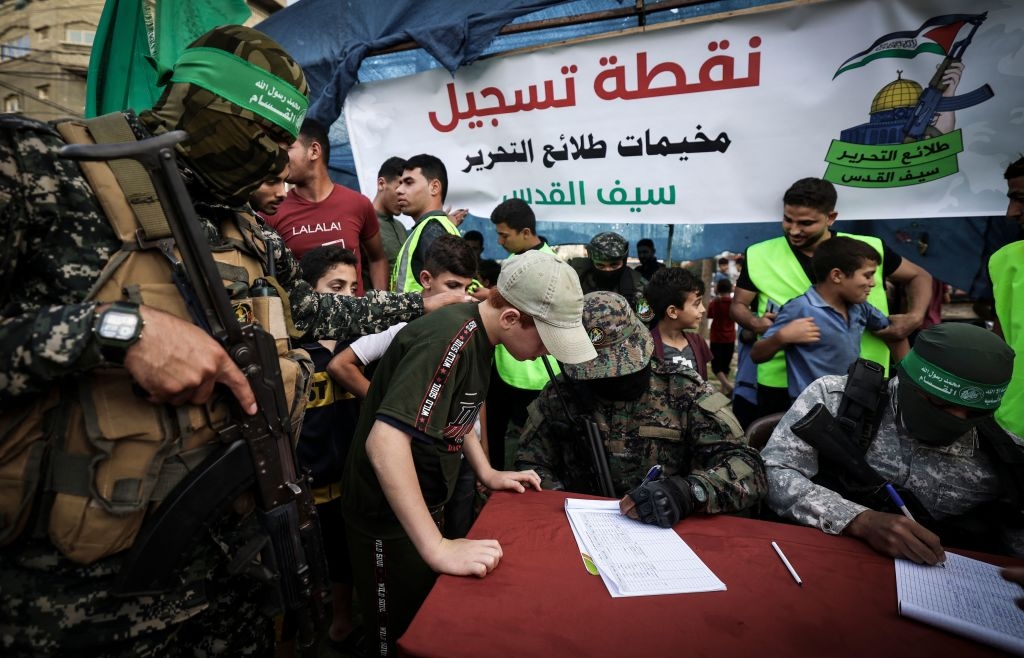 Last January, Amedy Coulibaly (left) murdered a policewoman and four Jews in Paris, before being shot dead by police. Right: Medics carry a victim wounded in an attack by Islamist terrorists, who shot hundreds of concert-goers, killing 90, at the Bataclan theater in Paris on November 13, 2015.
France's Socialist Party government has unveiled a new legislative program designed to decrease the likelihood of further Islamic atrocities, largely it seems that would have ensured the success of the jihadist attacks committed so far.
«A range of measures» are set to be introduced to combat the alleged «Social, Ethnic and Territorial Apartheid» currently blighting France.
Not only were the jihadist proclivities of most of last year's perpetrators fully known to the authorities in France, some had been released from prison early following crimes of violence involving automatic weapons.
In the measures revealed by Prime Minister Manuel Valls, however, proactively combatting criminals appears to have taken a backseat to placating the communities from which they are drawn.
The first aim of the new laws contained within the Equality and Citizenship bill, reports Le Monde, is to centralize the provision of social housing in France. Until now the growth of Islamized areas has largely been limited to suburbs around major urban centers.
Much as in Germany, where Muslim migrants to Europe are being sent directly into rural areas, the prime minister is proposing a new nationwide system designed, «to make a better distribution of the public housing supply» in France. This nationwide transformation of housing policy is aimed at curtailing «concentrations of poverty,» within problematic Islamic enclaves infamous as no-go zones.
«Recalcitrant» locally-elected mayors who oppose the construction of new housing projects in their areas will be overruled by the state in the interests of «social diversity.»
Second, in the guise of improving literacy in French amongst those of immigrant descent, a new fast-track employment scheme has also been drawn up.
The scheme «will allow youths with few or no qualifications» to enter France's «citizens' reserve,» a government initiative established last year which links the nation's education system with its civil service, allowing an accelerated path into state employment.
The euphemism «youths» is used in the French media to describe the country's increasingly problematic young Muslim population. In 2014, an ICM poll discovered that 27% of French citizens aged 18-24 supported ISIS.
The glowing account given to the proposals being forwarded by Prime Minister Valls, in his country's leading left-wing daily, fails to mention how the newly foreseen «third path» job scheme will address the greater key issues.
Unease is growing at the level of Islamist sympathies already held by state employees in France, such as members of the military and police.
Third, as nationwide protests continue to mount over migrant chaos in French towns, spread across the coast of the English Channel, even greater criminal penalties against free speech are also set to be introduced by the new bill.
Verbal communication has, apparently, been largely exempted from legal free speech curtailment in France, unless recorded and posted online. Such cases then fall under the same strict law that governs the printed word, originally passed in 1881.
This law is why Charlie Hebdo is famous for distributing its most challenging content in the form of cartoons, thereby seeking to exempt itself from strict sanctions against «defamation» in print. Fictional novels published this year about France's Islamic future have sought to do the same.
Under the legislation currently being proposed by Valls, this existing status quo is set for a radical shake-up. The new restrictions planned for France are more in line with the Europe-wide harmonization of hate speech offences, mandated by the European Union.
The augmented provisions against incitement to hatred, previously limited to the 1881 press law, are set to be expanded throughout the French criminal justice system, under the new bill.
Much as in the UK, the new creation of aggravated offences will also ensure that any existing crime can be claimed, by its victim, also to contain a «hate speech» component, incurring far stiffer penalties against the alleged perpetrator.
The application of existing French laws, however, after the last major atrocity in Paris, on November 13, point to the likely reasons for the new proposals being put forward by France's government.
Since the massacre at the Bataclan nightclub and suicide bombings that struck the French capital, the Republic of France has been in a state of emergency. This gives the country's President, François Hollande, «extraordinary powers» under Article 16 of the French Constitution.
In February, the duration of these powers, which enable warrantless searches whilst limiting freedom of expression and peaceful assembly, were extended until May 26 by the lower house of the French legislature, the Assemblée Nationale.
In the intervening period, soldiers have become such a common sight in the French capital, that they often give Paris the impression of being under martial law. Half of the country's army is now deployed on the streets of France.
Yet, whereas protests by French people against Islamization or government policy have been rigorously curtailed by the authorities, migrant gangs have still felt able to terrorize French towns, stampede French motorways, or conduct mass armed brawls in Paris, with little fear of intervention from either security services or the law.
Although the law being introduced by Mr. Valls is chiefly claimed to be about «youth engagement,» the new bill seems more the result of a realization that one group in France — its natives — can generally be relied upon to obey the law, while apparently another cannot.
There is a certain group of young people, however, with whom Manuel Valls clearly does notwish to engage. He recently excoriated members of the controversial Europe-wide Identitarian Movement, a nationalist youth group notorious for engaging in acts of civil disobedience in response to the changing culture and demography of France and Europe.
Described as the «hipster right» by some outlets, Mr. Valls decried supporters of the movement — which began in his country — as «those who want the country closed while dreaming of going back to a France that never existed.»
«I believe in my country, in its message and its universal values,» Valls added. In the interviewpublished by Libération, on April 12, he continued:
I would like us to be capable of demonstrating that Islam, a great world religion and the second religion of France, is fundamentally compatible with the Republic, democracy, our values, and equality between men and women.
Manuel Valls was later forced to admit, in the interview, that this «compatibility» is something doubted by «a majority of our fellow citizens.»
Some 3.3 million people have dual citizenship in France, most of them Muslim. After President Hollande had announced that his country was «at war,» in the immediate aftermath of November's attacks, the French Prime Minister unveiled plans to amend France's constitution.
The proposed amendment was intended to strip French citizenship from dual-nationals convicted of terrorism offences. At the time Manuel Valls was described, in the left-wing media, as a «strongman» who had taken a «hard line against terror.»
On March 30, however, after a split within the Socialist Party over the issue, the Prime Minister's plans were dropped.
The new, more comprehensive, legislative proposals are set to go before the Assemblée nationale this month.
George Igler, a political analyst based in the City of London, is the Director of the Discourse Institute.
The French Appetite for Appeasement
by George Igler
June 4, 2016 at 5:00 am
http://www.gatestoneinstitute.org/8172/france-appeasement