Saudi-Arabia tar konsekvensen av at USA tilnærmer seg Iran og setter i gang en opprustning som vil gjøre landet til den største militærmakt i regionen., skriver Con Coughlin, sikkerhetspolitisk redaktør i Telegraph.
Now the Saudis are planning to establish themselves as the Arab world's undisputed military superpower by embarking on a $150 billion defence spending spree that will see the country's Armed Forces double in size over the course of the next five years.

The new Saudi defence doctrine drawn up by senior military officers in Riyadh proposes a doubling in the size of the air force from its current strength of around 250 combat warplanes to 500. Increases of a similar scale are envisaged for the kingdom's other armed forces, with the Navy set to see the size of its surface fleet more than double, as well as acquiring its first submarine fleet. Saudi Arabia also wants to acquire a range of sophisticated ballistic missile systems, air defence systems and battle tanks, while the total number of combat ready personnel will rise above the 500,000 mark.

At this rate, Saudi Arabia will soon replace Egypt as the Arab world's most significant military power.
Den som trodde avtalen med Iran ville føre til avspenning, tar skammelig feil. Kong Salman kan smile og ta Obama i hånden, men på kammerset har Saudi-Arabia for lengst bestemt seg for å go it alone. De stoler ikke lenger på USA i utenriks- og sikkerhetspolitikken.
Nor is Saudi Arabia's huge arms build up confined to conventional weaponry. In a recent interview with the Daily Telegraph in London, Prince Mohammed bin Nawwaf bin Abdulaziz al-Saud, Saudi Arabia's Ambassador to Britain, warned that Riyadh would not rule out acquiring nuclear weapons if Washington failed to provide proper safeguards about Iran's nuclear ambitions.

«We hope we receive the assurances that guarantee Iran will not pursue this kind of weapon,» explained Prince Mohammed «But if this does not happen, then all options will be on the table for Saudi Arabia.» Nawaf Obaid, a Saudi defence expert and visiting fellow at the Harvard Kennedy School's Belfer Center, said: «Saudi Arabia is preparing itself in case Iran develops nuclear weapons.»

Saudi Arabia is known to have close links with Pakistan, where Dr A.Q. Khan, the «father» of Pakistan's nuclear weapons arsenal, is believed to have received Saudi funding for his research into building an atom bomb. Senior U.S. officials have warned Saudi Arabia has recently taken a «strategic decision» to acquire «off-the-shelf» nuclear weapons from Pakistan.

Saudi Arabia's new arms build-up is being undertaken as a direct response to what many Saudis believe is the Obama administration's capitulation to Tehran over its nuclear program. The defence doctrine identifies a nuclear-armed Iran as one of the three main threats the kingdom is likely to face in the future, together with terrorism and regional instability.

The new doctrine threatens to change dramatically the military balance of power in the Arab world, a change that is likely to be viewed with deep concern by Israel. Shortly before Mr. Obama announced the nuclear deal with Tehran, the Saudis announced they had concluded a $12 billion arms deal with France, including helicopters and naval patrol vessels.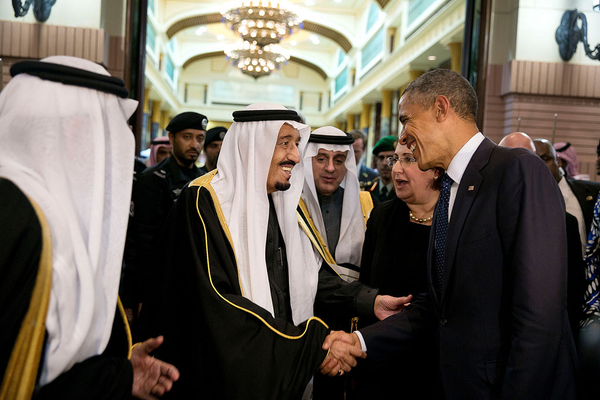 More weapons, please… King Salman bin Abdulaziz of Saudi Arabia bids farewell to President Barack Obama in Riyadh, Saudi Arabia, Jan. 27, 2015. (Image source: White House)